Posts for tag: tooth decay
By Smile Maker Dentistry
June 21, 2018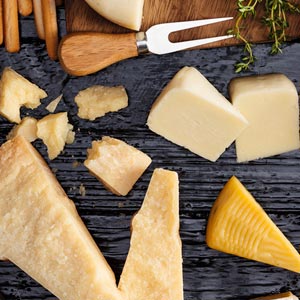 What you eat (and how often you eat it) is a major factor in the ongoing battle to prevent tooth decay. High levels of sugar or similar carbohydrates in your diet could encourage the growth of bacteria that cause tooth decay. Constantly sipping on acidic beverages like sodas or sports drinks can lead to enamel erosion.
You may be well aware of the kinds of foods that contribute to tooth decay. But did you know some foods can actually protect us from this damaging disease? Here are 4 kinds of foods believed to inhibit tooth decay.
Cheese. This food formed from milk is rich in calcium and has a stimulating effect on saliva. By eating a little cheese after a sugary snack, the increase in saliva can help neutralize the acid produced by the bacteria feeding on the sugar; the added calcium will also strengthen tooth enamel.
Fibrous plant foods. Beans, peanuts and leafy vegetables are rich in fiber and many require vigorous chewing. This in turn stimulates saliva flow, which as previously noted helps to neutralize high levels of acid.
Black and green teas. Beverages brewed from these plants are rich in polyphenols and flavonoids, providing an antioxidant effect on cells. Black tea also contains fluoride, which helps strengthen tooth enamel.
Chocolate. There's some evidence that cocoa (from which chocolate is derived) may have some properties that inhibit tooth decay. But there is a catch — this evidence is based on unrefined cocoa, without the addition of any sugar. The high levels of sugar in processed chocolate negate this effect. Sorry chocolate lovers!
Of course, any of these and similar foods (like cow's milk) should be considered complements to a comprehensive prevention approach that includes daily oral hygiene, limits on sugar and acidic food consumption and regular dental cleanings and checkups.
If you would like more information on preventing tooth decay, please contact us or schedule an appointment for a consultation. You can also learn more about this topic by reading the Dear Doctor magazine article "Nutrition & Oral Health."
By Smile Maker Dentistry
August 22, 2017
"Cut down on sweets, especially between meals" is perhaps one of the least popular words of advice we dentists regularly give. We're not trying to be killjoys, but the facts are undeniable: both the amount and frequency of sugar consumption contributes to tooth decay. Our concern isn't the naturally occurring sugars in fruits, vegetables, grains or dairy products, but rather refined or "free" sugars added to foods to sweeten them.
The World Health Organization and the U.S. Food and Drug Administration both advise consuming no more than 50 grams (about ten teaspoons) of sugar a day. Unfortunately, our nation's average per person is much higher: we annually consume around 140 pounds per capita of refined sugars like table sugar or high fructose corn syrup, more than three times the recommended amount. Soft drinks are the single largest source of these in our diets — Americans drink an average of 52 gallons every year.
The connection between sugar and tooth decay begins with bacteria that ferments sugar present in the mouth after eating. This creates high levels of acid, which causes the mineral content of tooth enamel to soften and erode (a process called demineralization) and makes the teeth more susceptible to decay. Saliva naturally neutralizes acid, but it takes about thirty minutes to bring the mouth's pH to a normal level. Saliva can't keep up if sugars are continually present from constant snacking or sipping on soft drinks for long periods.
You can reduce the sugar-decay connection with a few dietary changes: limit your intake of sugar-added foods and beverages to no more than recommended levels; consume sweets and soft drinks only at meal times; replace sugar-added foods with fresh fruits and vegetables and foods that inhibit the fermentation process (like cheese or black and green teas); and consider using mint or chewing gum products sweetened with xylitol, a natural alcohol-based sugar that inhibits bacterial growth.
Last but not least, practice good oral hygiene with daily brushing and flossing, along with regular office cleanings and checkups. These practices, along with limits on refined sugar in your diet, will go a long way toward keeping your teeth and mouth healthy and cavity-free.
If you would like more information on the relationship of sugar and dental disease, please contact us or schedule an appointment for a consultation. You can also learn more about this topic by reading the Dear Doctor magazine article "Nutrition & Oral Health."